Urban Studies Conference Pre-excursion to Hiedanranta, Wednesday April 27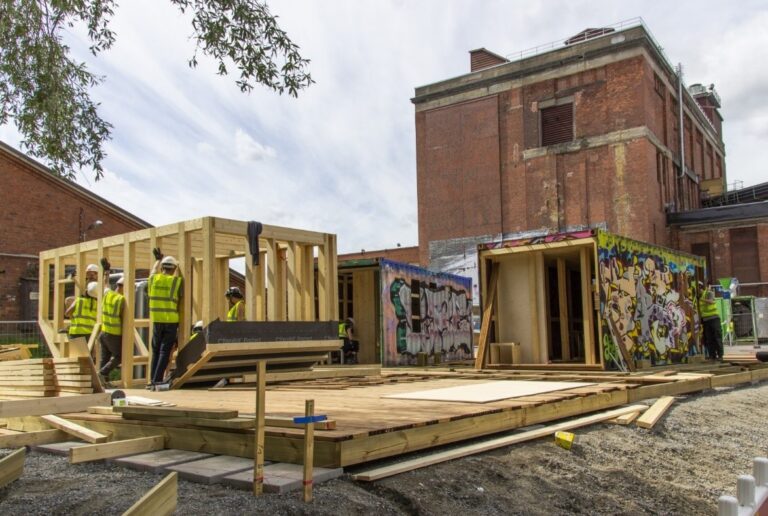 Hiedanranta is a former pulp mill and industrial site, which the City of Tampere bought in 2014. Since then, the area and its vacant buildings, varying from factories to wooden houses and a manor, have been renovated together with different actors. Researchers, teachers and students of Tampere University also use Hiedanranta as a living lab of sustainable urban development.
How was this done? Where do things stand now and what is happening next, as the ambitious plans of building a new western city center with high sustainability goals start to unfold?  
You are welcome to hear the stories of Hiedanranta people and experience the places they have created.  Be prepared to gain new sensitivity to experiencing spaces. You might also get inspired by the power of collective action to realize everyday dreams! 
Timetable and links 
16:00 Bus departure from the University's City Centre Campus Pinni A building (Kanslerinrinne 1)  
16:30 Muovitehdas: Teemu Grönlund introduces Kaarikoirat skateboarding association and skateboarding high school programme  
17:00 Walk to Kenneli D.I.Y. skatepark and introduction to the project  
17:30 Spraycankontrol: Matti Lankinen introduces the street art association and its role in Hiedanranta 
17:50 Moving in space organized by FEMA artist collective 
18:30 Story of Hiedanranta sauna by its initiators as well as its current facilitators  
19:00 Matti Huhta from the Hiedanranta Development Company shares the current situation from the city perspective as well as future plans  
19:15 Wine & snacks in Lielahti Manor. Students' posters in Jukola Building.
Lielahti Manor is in our use for greetings and discussions until 21:00. Sauna enthusiasts can also bring their towels and swimsuits, as there is an option to experience the sauna from 20:00–22:00. You can also be prepared to some more or less self-organized afterparty in Hiedanranta.  
Bus will return to the city center from the manor at 21:00. 
The excursion is organized by Insurgent Spatial Practices collective that is also hosting a session during the Urban Studies Conference. The excursion is supported by Tampere University's profiling area  Sustainable Transformation of Urban Environments (STUE).